Brightwater Homes put its Net Zero Energy initiative centerstage on June 20th at its first Net Zero Energy community in Georgia – Barrington Place in Downtown Roswell. The Brightwater team played host to more than 80 home building and real estate professionals as well as Roswell City officials in a special educational event aimed at spreading the word about its sustainable building initiative focused on constructing Net Zero Energy homes and, most importantly, sharing knowledge on how the team is making it happen from architectural design to building science. Net Zero Energy is on the forefront of sustainable building in new home construction today. Simply put, a Net Zero Energy home is one that produces at least as much energy as it consumes over the course of a year, leaving the homeowner with a "net zero" energy bill while protecting the environment by offsetting any draw on finite energy resources. Zero Energy homes combine expert design, cutting edge building science as well as renewable energy sources and systems like geothermal HVAC and/or solar panel arrays to achieve their high performance.
The pursuit of Net Zero Energy by Brightwater is born of the company's passion for environmental stewardship and more sustainable home building. Because of this strong belief in the greater importance of driving more sustainable practices on an industry level, Brightwater has not guarded its Net Zero practices as a competitive advantage but rather has offered an open invitation to others in the industry to share in the knowledge it has gained along its sustainability journey. "This whole event started with how we can share our learning," said Brightwater founder Charlie Bostwick. "For other builders who want to learn about this and want to do it, we want to show you. This isn't a competitive advantage that we want to do and you not do. We'd love to show you. We'd like to go through this together and help each other be even more sustainable. And we're committed to do more." Brightwater's Net Zero initiative leader Steven Sanders-Myers continued, "I'm really a believer, and not just because I'm passionate about it, but from what I see in where the market is going and the U.S. energy grid that Net Zero developments, Net Zero homes – it is really the wave of the industry, of where we're going as homebuilders."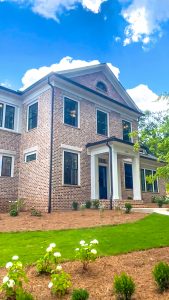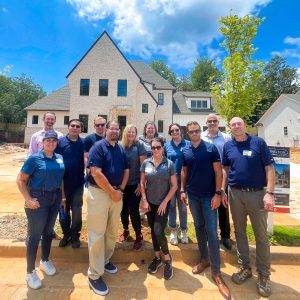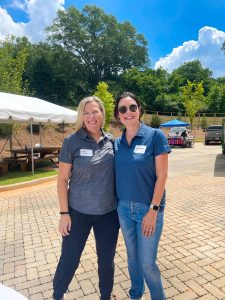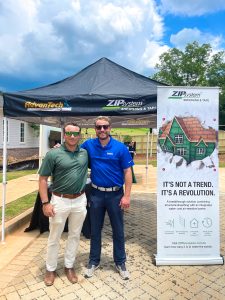 Bringing Net Zero Energy homes to the market takes a concentrated effort from the very initial concept design all the way through the construction of the home. "Sustainable homes begin with thoughtful design which we spend countless hours on," says Bostwick. "We know this movement is only sustainable in the market if our homes and communities are beautiful and live better. So, we think carefully about how we can take unnecessary square footage out, save that cost and then put that into making the home more sustainable and reducing the cost of home ownership."
Brightwater has a track record of leading the way in sustainable home building, having successfully introduced one of the first solar-standard new home communities in Georgia at Sweet Apple in Milton in 2017. While Barrington Place is Brightwater's first all Net Zero Energy community complete with included solar panel arrays and all native plant landscaping, it won't be the last. The company already has Net Zero plans on the drawing board for its newest Roswell community, Aster on Cox Road, as well as The Ridge at Sweet Apple, an upcoming expansion of the iconic Milton community that started its sustainability journey in earnest. Sanders-Myers summed up the team's commitment to continue to push the envelope in sustainability. "I think because our team believes it in so much, there's a passion and it really shows in the work that we do. It's more than just building houses. This is something we care about – how we're going to impact today, how we're going to impact tomorrow, how we're going to impact a decade from now, the next generation."
For more information on Brightwater Homes as well as Barrington Place and its other communities, call 470-386-0929.